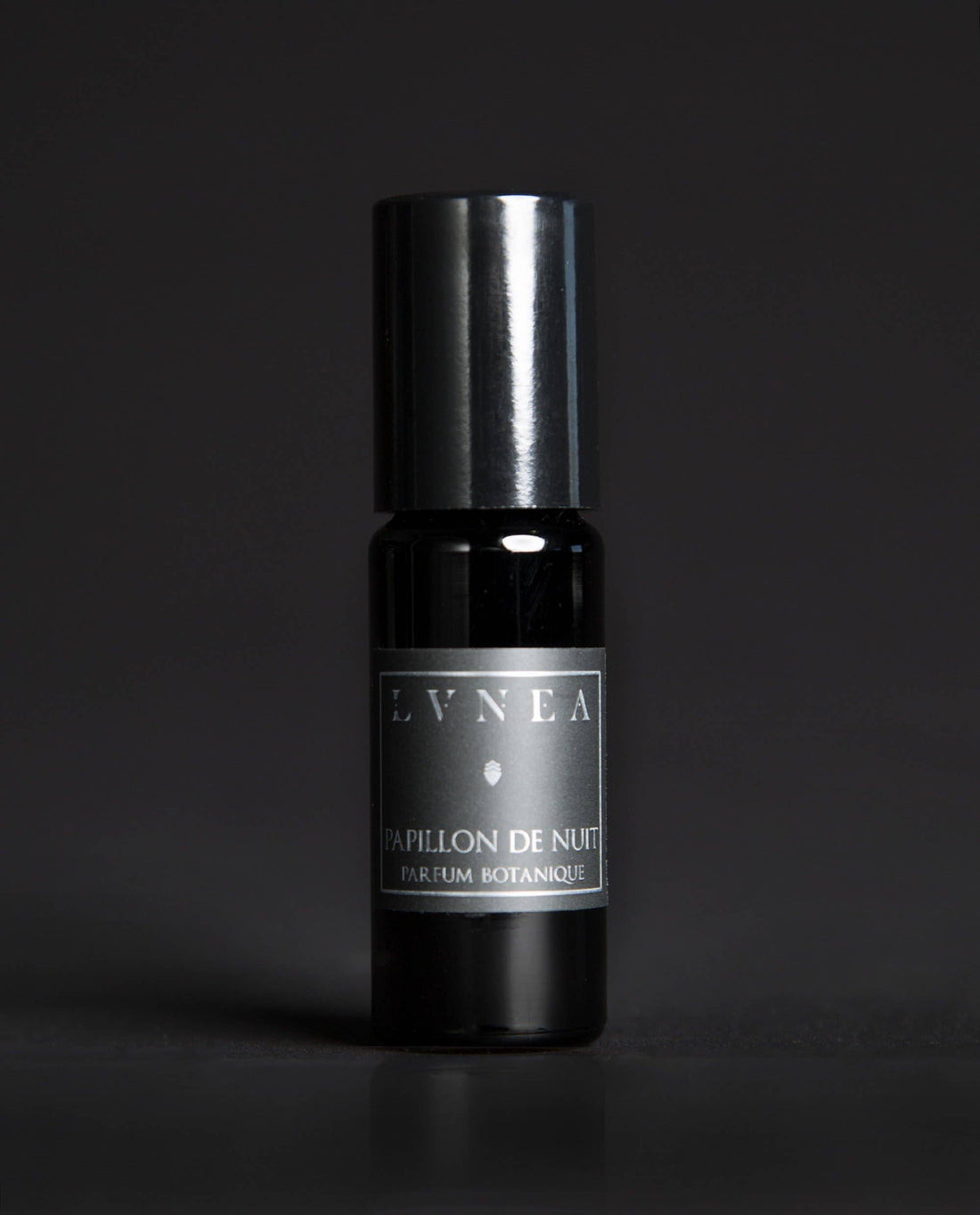 PAPILLON DE NUIT | Parfum Botanique - white florals, ambrette, sandalwood
Determinism stitched in wings
That, t'wards beloved, soar through air 
The cordial tug of the sweet thing
Sets fire to moth's wing-spanned hair.
Drape yourself in the fluttering expanse of finespun wings and lunar opalescence, inspired by the secret world of moonbeams, night-blooming flowers, and their delicate nocturnal pollinators. 

Like butterflies, papillons de nuit (french for "night butterflies", — moths) are indispensable pollinators, gorged on nectar and saddled with pollen. Because of their poor sense of sight, these fragile creatures rely on the potent fragrance of nocturnal blooms to find them, as well as on the milky-white, moon-reflecting surface of their petals. 
FEATURED NOTES: palo santo* · magnolia · white champaca · botanical white musk accord · tonka bean · sandalwood 
ASPECTS: buttery floral · white musk · soft wood dry-down 
THE RITUAL: Roll the desired amount onto pulse points (wrists, crooks of the arms, neck, décolletage, etc) and allow to air dry. Store in cool, dry areas or within its case after use.
Ingredients: Caprylic/Capric Triglyceride (Coconut Oil, Fractionated), Natural Fragrance/Parfum (Essential Oils, Absolutes, CO2s, Plant Extracts, and Natural Isolates).
Choose between a 10ml or 20ml black amethyst bottle with roller ball applicator, presented in a portable matte black tube. 

NATURAL · BOTANICAL · UNISEX
BLENDED AND BOTTLED IN-HOUSE IN SMALL BATCHES


* THIS SCENT HAS BEEN REFORMULATED TO GRADUALLY REDUCE AND NOW EXCLUDE THE USE OF BURSERA GRAVEOLENS (PALO SANTO) WOOD OIL FOR ETHICAL AND SUSTAINABILITY REASONS, AND IN ITS STEAD WILL ONLY FEATURE THE OIL EXTRACTED FROM ITS FRUIT, DELICATELY BALANCED WITH SOFT WOODS TO REPLICATE THE FRAGRANCE'S ORIGINAL SCENT AS CLOSELY AS POSSIBLE. THIS LISTING IS FOR THE LAST 20ML BOTTLES OF THE 'REDUCED' FORMULA.