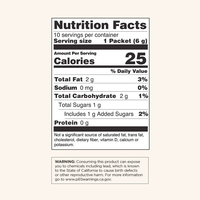 Mushroom Coffee Latte with Lion's Mane
Get your brain going without leaving your body behind. Lion's Mane and Chaga keeps the caffeine under control to support clean, focused energy.
Mix, Sip, Go
Coconut milk powder is already added for a smooth and creamy latte that just needs hot water on your end. If you want to really elevate a latte, try adding coconut oil or cinnamon.
Made with organic, Arabica coffee beans with only half the caffeine as a regular cup of coffee (50 mg of caffeine). 
Mixes medium and creamy. You'll completely forget the word "mushroom" is on the bag while you're drinking it. You'll remember when you notice you haven't crashed around mid-day.