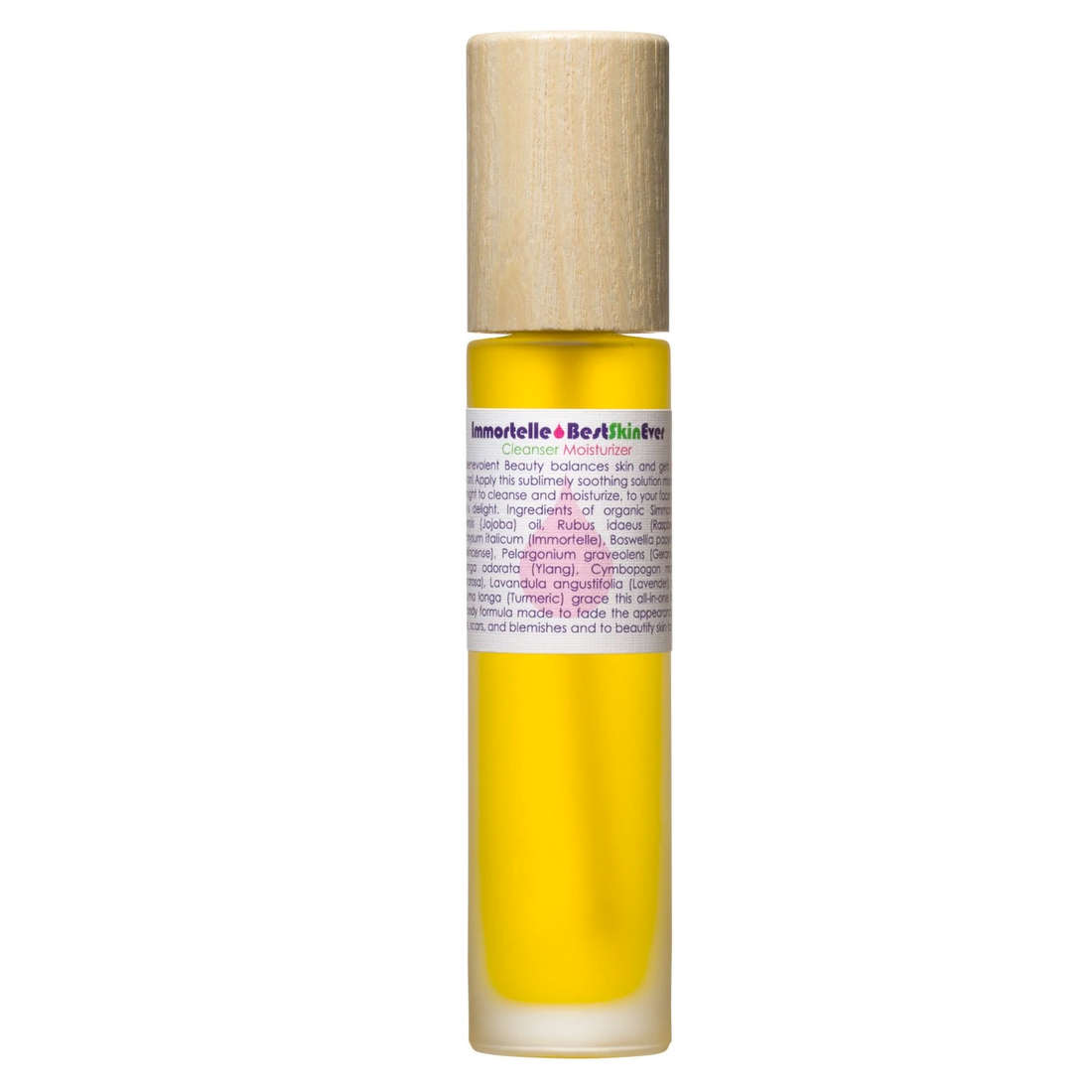 Immortelle Best Skin Ever
Revel in everlasting radiance as Immortelle Best Skin Ever unveils your most vibrant skin. This Benevolent Beauty balances skin and gets the glow on! Apply this sublimely soothing solution morning and night to cleanse and moisturize, to your face and body's delight.

Immortelle Best Skin Ever is a super-fine formula of elegant essences ready to attend to any skin sensitivities, pimple proclivities, blemish festivities, or acne activities, and scars are soothed, smoothed, calmed, and balanced for polished complexion perfection.
Immortelle, the shining star of this super skin serum, is one of the top performing oils in the pantheon of botanicals for skincare perfection. This rare gem has potent restorative properties that markedly improve the appearance of skin imperfections. Tonifying Tigray Frankincense and regenerating Geranium combine with the skin soothing sesquiterpenols of Palmarosa, Lavender, and Ylang to make cells sing.
These active essences ride into the skin swirled in the opulent emollients and phospholipids of raspberry seed oil and saturated in jojoba's ceramides. This all-in-one face and body formula is made to fade the appearance of spots, scars, and blemishes and to beautify skin tone.
How to use: Cleanse, exfoliate, and moisturize with one squirt. Its cleanly removes makeup, and is perfect to cleanse with from nose to toes.
When you start a fresh bottle, prime the pump with a firm press or two to get the fluid flowing.
To Cleanse Your Face:

1. Wet a small portion of a cloth with water.
2. Apply one to two squirts of Immortelle Best Skin Ever to the dampened portion of the face cloth.
3. Gently massage the face, neck and back of the neck with the moistened cloth. Wash gently or wash vigorously for a deeper exfoliating effect. Rinsing the face is optional.
If more moisture is needed, add another squirt or two of any of our Best Skin Evers or Libations Serums (Rose Glow, Soothsayer, Royal Rose, Sandalwood, or Open Sky) to your fingertips and massage into the face and neck. If your skin feels extra thirsty, a Libations Crème (Sundew, Rose Glow, All Seeing, or Maverick) will satisfy.
You can also add a drop or two of any of the serums to a dab of any of the crèmes. They all blend beautifully together.
This is our favorite method of washing with oils. You may also simply massage in with fingers and rinse. You can use a cotton round to remove makeup.
To Moisturize Your Body After a Bath or Shower
1. Leave the body wet after a bath or shower.
2. Wet a washcloth with water. Squeeze it out.
3. Apply a few squirts onto the wet washcloth of any of the Best Skin Evers.
4. Massage the entire body with the cloth, head to toe. Rub more vigorously to exfoliate.
Ingredients: Jojoba Oil, Raspberry Seed, Immortelle, Tigray Francinsense, Geranium, Ylang, Palmarosa, Lavender, Turmeric
50ml