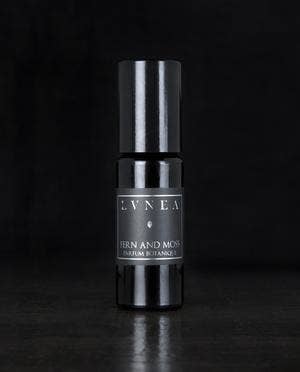 FERN AND MOSS | Parfum Botanique - fresh herbs, lavender, tonka bean
Pockmarked ochre aureole
Sits high above the greenery
The roots below, coarse and bedraggled
Tender sweet machinery
An aromatic blend of sunny citrus, muddled garden herbs, and fresh-picked lavender atop a base of moss, creamy tonka, and vetiver grass, this fougère (French for "fern") fragrance is offers an olfactory escape to fields of sun-dried grass and dew-laden greenery.
FEATURED NOTES: sparkling pink grapefruit · lavender flowers · crushed basil · green herbs · a base of vetiver, moss, and tonka bean
ASPECTS: aromatic · green · coumarin · soft and mossy drydown
THE RITUAL: roll a small amount onto pulse points and allow to air dry. Comes in a beautiful black amethyst glass bottle with a glass roller ball in a matte black tube (10ml).
Ingredients:  Caprylic/Capric Triglyceride (Coconut Oil, Fractionated), Natural Fragrance/Parfum (Essential Oils, Absolutes, CO2s, and Plant Extracts).
NATURAL · BOTANICAL · UNISEX BLENDED AND BOTTLED IN SMALL BATCHES