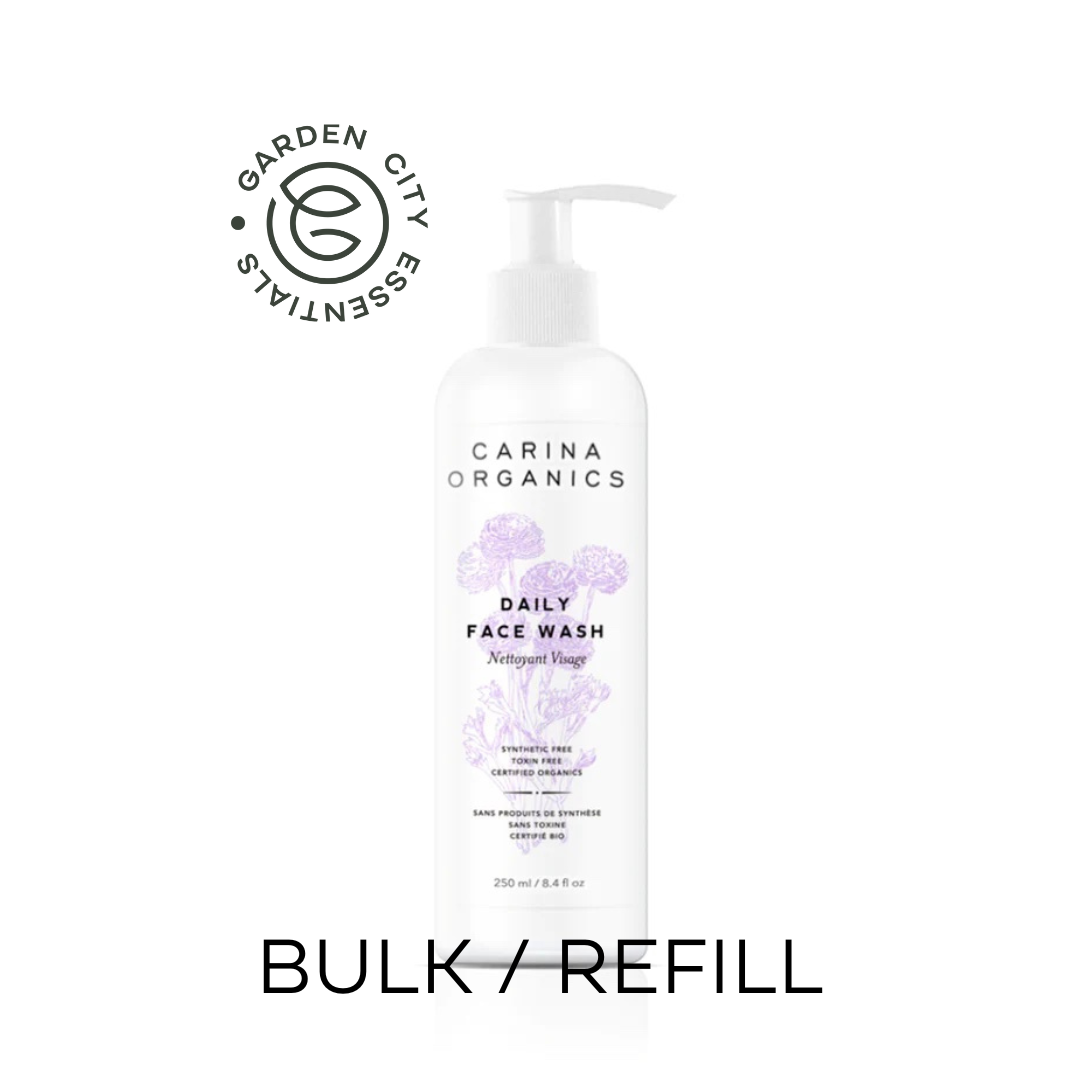 Carina Organic's Daily Face Wash sold by the gram.
You'll need to purchase a mason jar for us to dispense into, or stop by our refillery with a clean, dry container.
Description: A synthetic-free, scent-free, daily face wash formulated with certified organic plant, vegetable, and fruit extracts. This entirely natural and organic solution gently clears away unwanted oils, makeup, and impurities, while restoring the natural pH of your skin.
 
Directions: Use daily to cleanse face. Apply desired amount to hands, and gently wash as desired, bring to lather on skin, then rinse.  
This product is:
Synthetic Free

Scent Free

SLS Free

Paraben Free

Cortisone and Steroid Free

Hypoallergenic

Cruelty Free

Vegan

100% Biodegradable 

Soy Free

Gluten Free

Dye Free

Paraben Free 
Ingredients: Filtered Aqua, Capryl Glucoside (corn sugar and fatty capric alcohol from coconut oil), Potassium Cocoate (saponified Cocos nucifera / coconut oil), Glycerin (vegetable), Pinus elliotti (pine) extract, Pinus banksiana (pine) extract, Magnesium Chloride (Magnesium Oil), Olea europaea (olive) fruit oil, Matricaria chamomilla (chamomile) flower extract, Urtica dioca (nettle) leaf extract, Taraxacum officinale (dandelion) leaf extract, Trifolium pratense (clover) flower extract, Acetic Acid (Apple Cider Vinegar). Cyamopsis tetragonoloba (guar/cluster bean) gum.