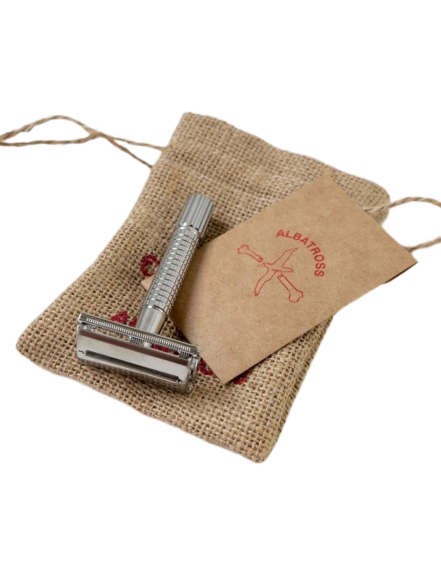 The Flagship Butterfly razor is not just beautiful; it performs flawlessly.  With a similar length to our Flagship 3-piece razors, the Butterfly differs by securing the blade just by twisting the bottom to open and close the blade holding plates. 
This is our recommended model for most people as it handles every shaving situation well, will last a long time, and truly feels awesome to hold and use. 
Key Highlights:
For MEN AND WOMEN & all shaving needs
Over-built components for durability
High-polished finish to protect from corrosion
Quality Happiness Guaranteed
Zero Plastic Waste and Blade Take Back Program
Comes with 10 free blades, Blade Take Back collection envelope, and hemp razor bag
~3.5" in length
Albatross Blade Take Back Info
All of our razor sets come with 10 free blades and an envelope you can use to collect your used blades in. The used blades can then be sent back to us or dropped off at a participating Blade Take Back Program site. We ask that you put a maximum of 4 blade packs (40 Blades) in each envelope. If you order multiple blade packs we will include 1 Take Back Envelope for every 4 blade packs in your order.
The Albatross Blade Take Back Program was the world's first shaving Take Back program and represents years of hard work to create a totally closed loop production cycle. We aim to make new (non-razor) products with the Take Back metal that have other direct environmental benefits; We don't just recycle, We Upcycle! The key to all of these efforts is having enough blades to scale to our goals. As such, we ask that you kindly consider participating in our Blade Take Back Program. We do appreciate it.
Find out more about the Albatross Blade Take Back Program here.
Find Shaving Tips here.